;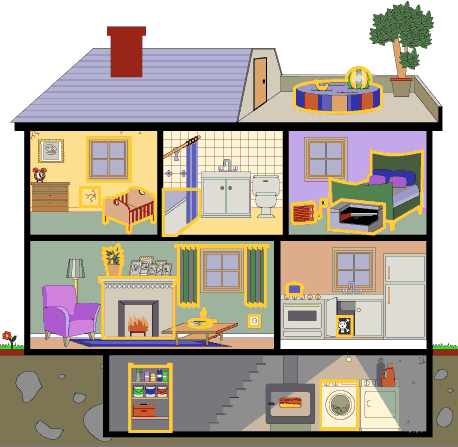 "A house is made of walls and beams, a home is built with love and dreams."
Understanding Color
Understanding color theory and color trends can help guide you to select the perfect palette for your home.
If the white walls in your house are bothering you and you are ready to decorate using a color scheme in certain rooms, you may still not know where to start. You probably know what your color preferences are for clothing, but when it comes to decorating, your taste might be quite different.
Try these tips to discover what colors you prefer on your walls and in other parts of your home.
If you have a few colorful items in your room already, choose the color scheme based on the largest pattern that is already in the space.
A decorative carpet, a piece of artwork, or patterned upholstery, study those items and see what color is the most prevalent.
You can accent that color or pull out a more neutral color like beige or white from the pieces.
Begin with the formal areas first. The living room, entryway and dining room are good choices.
Choose colors from those areas, then you can flow into the more informal areas of the house by choosing colors that go along with those.
If you want to incorporate several different tones of the same color, make sure you decorate the area from dark to light in a vertical manner.
Darker colors work best on the floor and you can use medium colors in the middle and lighter colors on top.
The interior style and color is best when it replicates the outside space. Outside, the earth is dark and brown and the sky is light and blue.
Secrets of the Super Organized
Reduce before organizing.

The mistake most people make when trying to organize their stuff is that they have a whole mess of things to organize, and it's too complicating. If you have a closet crammed full of stuff, sure, you can buy a bunch of closet organizers, but in the end, you'll still have a closet crammed full of stuff. If you take your closet full of 100 things and throw out all but the 10 things you love and use, now you don't need a fancy closet organizer.

Write it down.

It is hard to remember things when you need to, and they continually come up when you don't need them. Instead of using your mind as storage, just write it down. Try carrying a small notebook with you, and write things down immediately. Then you can process the ideas and tasks later into a to do list so you won't forget later.

A place for everything.

Just like your pens, magazines and car keys. Each item should have a home, and if it doesn't, you need to designate one. You could even try labelling things.

Put it away immediately.

It only takes a few seconds, and this one habit will save you a lot of cleaning and sorting and organizing later. When you find yourself putting something down, then just make it habit to put it away. After a few times, it will become second nature.

Clean as you go.

This habit is effective because it's much easier to clean things as you work or as you move through your day than to let them pile up and do a big cleaning session later. So if you're cooking, try to wash your dishes as you use them, and wipe the counter, rather than leaving a huge mess. Same principle applies to everything we do. It's easier to do it in smaller increments, then it doesn't build up and make it overwhelming to deal with later.

Sit back and enjoy.

Being organized and having a simplified home is tremendously satisfying. So if things begin to gravitate towards chaos again, try to develop a system to keep your organization in place. Develop a system for dealing with schedules, errands, laundry, chores, exercise and everything else. Once those systems are in place, you need to be alert about keeping them going, and then things will remain organized.


Easy House Cleaning Guide
Ease the weekday morning rush by setting the table for breakfast before you go to bed. Put out cereal boxes and other nonperishable items, and prepare the coffeemaker and set the timer.
Store a floor duster with disposable cloths in a closet near the bathroom. It will be easy to grab the duster and go over the floor during the week.
Go through magazine and cataloge piles and discard outdated issues, three or five at a time. Toss junk mail daily.
Vacuum just the high-traffic sections of the floor or carpet and do the other areas later.
Quick clean artificial flowers with the upholstery attachment of the vacuum cleaner.
To freshen throw pillows, put them in the dryer, one or two at a time, on the air cycle.
Avoid a huge weekend laundry day, try to do at least a couple of loads of towels or clothes during the week.
Organize freshly washed linens into sets.
Stack on shelves, each family member can grab the set for their bed when it's time to change them.
While you get dressed in the morning, check your nightstand or dresser top and pick three to five items to toss out.
Clean the phone with a clean wash cloth as well as all your remotes.
Make beds every morning.
Designate bins or hooks for items your family uses every day.
Don't leave coffee mugs or pizza boxes in front of the TV.
Turn on your favorite music, dust with furniture cleanser or polish to the beat. You can also lightly mop over dirty floors.
Keep a spray bottle filled with cleanser and a roll of paper towels in the kitchen and in each bathroom.
Store cleansers in a handy plastic carryall so you can easily take them with you from room to room.
Before you go to bed, do a fast pickup. Put remote controls in a basket, tidy newspapers and loose papers or put them in the trash, clean off the coffee table, plump pillows and fold throws.
Try to quick clean one room every day. Or give the messiest area or item, like the coffee table, a good going over.
Polish all the wooden furniture, dust all surfaces or clean fingerprints off light switches.
How to Create a Minimalist Home and the Benefits of a Minimalist Home
Less stressful. Clutter is a form of visual distraction, and everything in our vision pulls at our attention at least a little. The less clutter, the less visual stress we have. A minimalist home is calming. More appealing. Think about photos of homes that are cluttered, and photos of minimalist homes. The ones with almost nothing in them except some beautiful furniture, some nice artwork, and a few pretty decorations, they are the ones that appeal to us most. You can make your home more appealing by making it more minimalist. Easier to clean. It's hard to clean a whole bunch of objects, or to sweep or vacuum around a bunch of furniture.
Here are some tips you may like to try to simplify an entire house
One room at a time.

It's easier to start with one room at a time, unless you are just moving into a place, it's hard to simplify an entire house at once. Focus on one room, and let that be your center of calm. Use it to inspire you to simplify the next room, and the next.

Start with the furniture.

The biggest things in any room are the furniture, so you should always begin simplifying a room by looking at the furniture.

Only the essentials.

Whether looking at your furniture or anything else in the room, ask yourself if the item is truly essential. If you can live without it, get it out. Try to strip the room down to its essentials, you can always add a few choice items beyond the essentials later.

Clear floors.

Clear everything on the floors, except for the furniture, your floors should be completely clear. Nothing should clutter the floor, nothing should be stacked, or stored on the floor. Once you've gotten your furniture down to the bare essentials, clear everything else on the floor.

Clear all surfaces.

Same thing with all flat surfaces. Don't have anything on them, except one or two simple decorations. Donate, trash or find an out of sight storage spot for everything else. It will make everything much more minimal looking.

Clear walls.

Some people hang all kinds of stuff on their walls. This will not do in a minimalist home. Clear your walls except for one or two simple pieces of nice artwork.

Store stuff out of sight.

You should store everything you need out of sight, in drawers and cabinets. Bookshelves can be used to store books or DVDs or CDs, but should not have much else except a few simple decorations.

Declutter.

If you are clearing flat surfaces and the floor, and storing stuff in cabinets and drawers, you'll probably want to declutter your storage areas as well. This can be done in a later stage if you'd like.

Keep it simple.

One or two simple decorations can serve as accents for a minimalist room. A vase of flowers or a small potted plant are two classic examples. If the rest of your room has subdued colors, your accents could use a bright color (such as red, orange or yellow) to draw the eye and give a plain room a splash of energy.

Plain window treatments.

Bare windows, or simple, solid colored curtains, or simple, wooden blinds are great. Too much ornate stuff around the windows is clutter.

Plain patterns.

Solid colors are best for floor coverings, furniture, etc.You can have a splash of bright color in the room, but most of the room should be more subtle colors. White is classic minimalist, but really any solid color that dosen't stress the eyes are good (earth colors such as blues, browns and greens).

Modify and eliminate.

When you've simplified a room, you can probably do more. Give it a couple of days, then look at everything with a fresh eye.
What could be eliminated? Stored out of sight? What's not essential? You can come back to each room every few months, and sometimes you'll discover things you can simplify even more.

A minimalist home.

In a minialmist home, it is important that you find a place for everything, and remember where those places are. Where does your blender go? Give it a spot, and stick with it. Aim for logical spots that are close to where the item is used. The key is to designate a spot and make it convenient for yourself at the same time.

Sit back, relax, and enjoy.

Once you've simplified a room, take a moment to look around and simply enjoy it. It's so peaceful and satisfying. This is the reward for your hard work. Ahhhh. So nice!
How to Fold a Fitted Sheet

Stand holding the sheet by the two adjacent corners of one of the shorter edges. With the sheet inside out, place one hand in each of these two corners.
Bring your right hand to your left, and fold the corner in your right hand over the one in your left, enveloping it. Next, reach down and pick up the corner that is hanging in front; bring it up, and fold it over the two corners in your left hand; the corner that's showing will be inside out.
Bring the last corner up, and fold it over the others; with its right side showing, it should envelop the other three corners.
Lay the folded sheet on a flat surface and straighten it into a large triangle.
Fold the two edges in so all the elastic is hidden.
Fold the sheet into a rectangle.
Continue folding until the rectangle is the size you want it to be.